Broadband Customers expect more for their $$
The TDR Annual report notes that consumers in 2019 know what they want and are prepared to pay for the services they secure. Customer expectations of what service providers and should do in exchange for payment have increased exponentially.
And so we should – with over 100 broadband providers in New Zealand, improved broadband plans and increasing choice NZ broadband customers are becoming more savvy. In recent years at Broadband Compare, we have seen customers move away from selecting the cheapest plan, becoming more discerning and willing to pay for the best plan for them.
What are the most common complaints about for Broadband Providers?
Compare to previous years, there are some steep increase in the types of complaints the TDR handle. Compared to 2017/2018, 2018/2019 has seen steep increases in complaints about: Customer Service Approaches, Debt Collection Agents, Account Errors, Failure to Action Requests, and Early Termination Charges. These should be top things to consider when choosing a new broadband provider.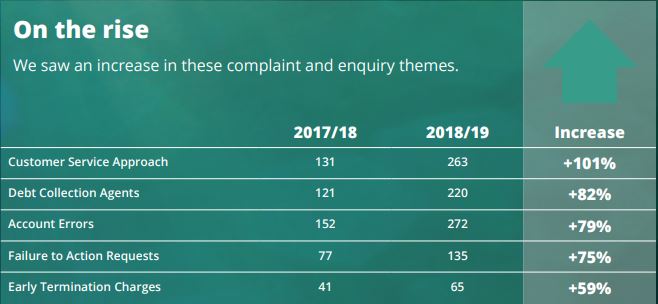 Source: TDR Annual Report 2018-19
Overall, customers complain the most about billing, customer service, faults, contracts, fibre installation and network performance. Here is a comparison of the top complaints and enquiries the TDR received in 2018-2019.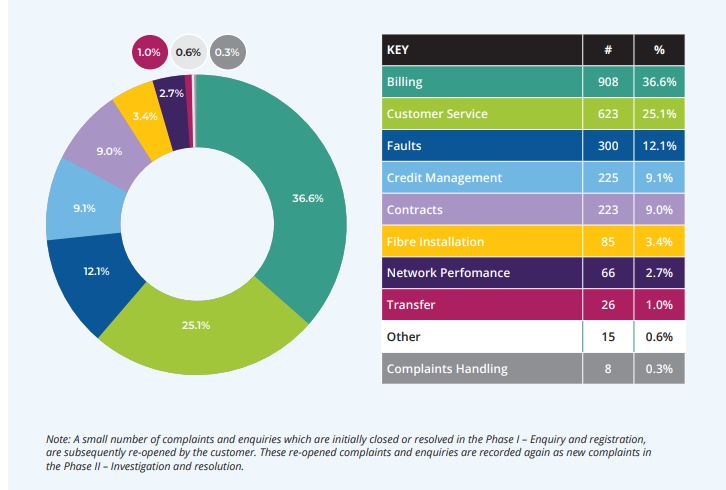 Source: TDR Annual Report 2018-19
With over 100 broadband providers in New Zealand, there is no reason to stay with a provider you aren't happy with, Especially when it comes to simple issues like billing, customer service, and faulty or poor network connections.
Are you satisfied with your broadband provider?
If you're not 100% happy with your broadband provider, you could find a shiny new provider is just a few minutes!
At Broadband Compare we are all about helping you make an informed decision about broadband. Simply enter your address in the address finder on our homepage, and you'll get a tailored list of broadband plans and providers available at your address.
You can compare plan prices and features side by side, to choose the best one for you. Plus we have 1000s of customer reviews in our system, so you can see what other broadband customers have to say and choose a 5 star provider.
If you're still not sure about the best broadband provider for you, our Customer Care Team are ready and waiting to help you make an informed choice about broadband.
Who are the Telecommunications Dispute Resolution (TDR)?
The TDR is an independent body for the prompt. Unbiased resolution of disputes at no cost to the consumer. The telecoms companies who are members of the TDR provide a service to 95% of New Zealand telecommunications customers.
Paul Elenio, TDR Council Chair says that the Council is all about ensuring customers are treated fairly, "The focus of the Telecommunications Dispute Resolution service (TDR) is ensuring that telecommunications companies deliver strong products and services; provide customers with clear, unambiguous, and consistent messages; and treat customers fairly. TDR is a highly important and essential avenue to protect consumers and build confidence in an industry that continues to undergo massive, rapid change.
What should I do if I have a dispute with my broadband provider?
If you have an issue with your current broadband provider, the first step is to let your provider know there's a problem. Contact your provider directly and give them a chance to sort it out.
If you want to talk about the issues and identify some options, the TDR are available to talk through the issue and help you work out what you think will resolve the issue.
If you and your provider can't sort the issue or it's been more than six week since your complaint, the TDR can help resolve the issue. If you can't resolve the complaint through mediation, and TDR adjudicator will decide the outcome.